For a busy Mom Meal Planning is a MUST!
Meal Planning will save you time, money not to mention your sanity!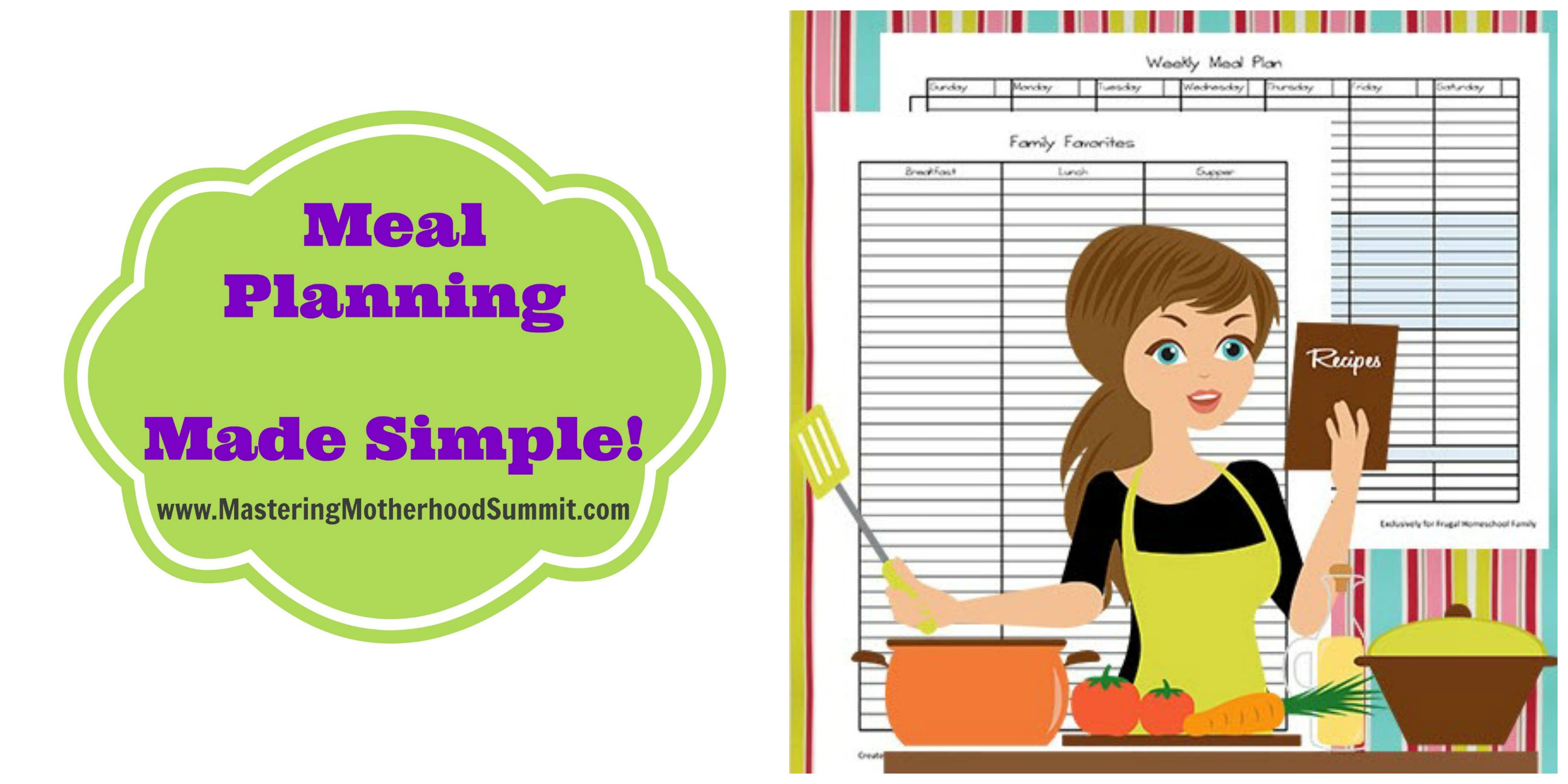 Here is a Step-by-Step Plan to help you jump start your Meal Planning journey while taking the stress out of healthy cooking and putting joy back in the kitchen.
#1.  Meal Planning requires a System!
In order to start meal planning, you must first have a system in place.  Your meal planning system should be custom to what works for you and your family's needs.
Don't let this process overwhelm or stress you!
It might seem like a lot of work in the beginning but once you get your Meal Planning System in place you will be able to rinse and repeat it.  You will develop your own rhythm and meal planning will soon become a breeze!
Your system should include a weekly meal planner, shopping list and recipes.
Start by setting aside some time to plan.
#2.  Create a Binder for your Recipes
Consider keeping a meal journal. (Especially when you are trying out new recipes)
Document the following…
How long did it take you to prepare the meal?
Was it kid friendly?
Was it fast and easy?
This step will help you identify which recipes to plug into our weekly meal planning each day of the week and which recipes to stay away from based on your schedule for the day / week.
#3.  Maintain a "Master Shopping List" to use for your weekly Meal Planning and Grocery Shopping
Instead of making a shopping list to use for each time you go grocery shopping, consider keeping a "Master Shopping List".  This will save you so much time.
Include everything you will need veggies, snacks, fish, meat, dairy, fruit, drinks, cooking oils – everything!
As you build your recipe binder, this step will become easier and easier.  You can keep adding the ingredients you most use from your weekly meal planning in to your "Master Shopping List".
#4.  Take ACTION!  It's time to start Meal Planning
Using a calendar start your meal planning by writing down what you plan on having for Breakfast, Snack, Lunch and Dinner.
Be specific!  Include a main dish and side dishes.
When choosing your recipes consider what you have going on the week you are doing your meal planning for, so you can strategically slot in recipes based on time and complexity.
For example, my family and I have a sit down breakfast every morning.  While we have time to for eggs and toast during the weekdays – We don't have time for pancakes, waffle or bacon as they take a while to cook.
So for my family, we save pancakes, waffles and bacon for the weekend 😉
HOT Tip:  Choose recipes based on time, complexity and with similar ingredients.  Don't forget to plan for leftovers too!
#5.  Choose a shopping day
Now that you have your meal planning done for the week.  It's time to pick a day to do your grocery shopping.  This is where your "Master Shopping List" comes in handy.
HOT Tip:  Place your master shopping list in a plastic sheet protector and keep it on your fridge.  As you use up your ingredients mark it off on your list using an eraser marker.  This will ensure your "to buy list" is always up to date.  When you are ready to go grocery shopping, snap a picture with your phone and you are good to go!
#6.  Prep your food
Once you get home from grocery shopping, prep your food.
Chop up your onions, veggies, dry your lettuce and wash your fruits.  This will help you save a ton of time when it's time to cook your meals.  You can just toss and cook!  Makes cooking a breeze and gets rid of extra prep time.
#7.  Cook in batch
Consider cooking in batch or double your recipes.  You can freeze the extra meal for next week or for an emergency meal.
HOT Tip:  Keep a frozen cheese pizza in your freezer for an emergency meal.  You can jazz it up by putting your own delicious toppings (kale, sun dried tomatoes, bell peppers, onions – whatever you'd like.
We all have days where things get off track / schedule and we fall behind in grocery shopping or meal planning.  That frozen pizza will save the day and will buy you an extra day to squeeze in that meal planning and grocery shopping. 😉
#8.  Have FUN with your Meal Planning!
Get your kids involved and have fun with this process!
Ask them what their favorite meal is and what days should you make it.
Get them to help you with grocery shopping.  We call it "Treasure Hunting" as we look for ingredients going isle by isle.  It makes the time go by fast and we end up having fun in the process.
Once you have your first week's meal planning done, start working on another weeks meal planning.  You can switch up the days, side dishes and come up with themes like Taco Tuesday, Soup Sundays, Pasta Night etc. and just mix it up.
Soon you will have library of weekly meal planning you can choose from.  Keep adding new recipes and use your meal planning journaling to add new meals in the mix.
Hope that helped!
Now I'd love to hear from you.  What does your meal planning process look like?  Paint a picture for us below in the comments