Time get smart with WHAT we cook, HOW we cook it and WHEN we cook it.
 


There is nothing worse than wasting your hard earned money on ingredients that go bad simply because you or your family didn't eat it fast enough.
My family LOVES fruit and we stock up on it all the time.  I call fruit my "Healthy Fast Food".  I love that you can just "grab and go" and it's great for you!
Bananas are a must-have fruit in our household. We started to buy extra bananas because our kids love them so much and between the four of us, we polish them up so fast.
My husband Anthony and I sometimes would leave the last few bananas "just in case" the kids wanted to eat them.
Of course, Murphy's Law – for some odd reason that would be the week none of the kids happened to want any bananas.  It would drive me "Bananas" to see them turn brown and get tossed away.
There is nothing worst then seeing your hard earned money go straight to garbage.
So I got smart about how to properly utilize over ripe bananas and put them to use in a healthy way.
Here is one recipe that specifically calls for over ripe bananas.
I LOVE this recipe!  It's easy… simple… and kid friendly.
In fact, when I see the bananas turn brown I make an event out of it by getting the kids involved in the fun as we bake together.
Quality time with kids "Check!…check and check!"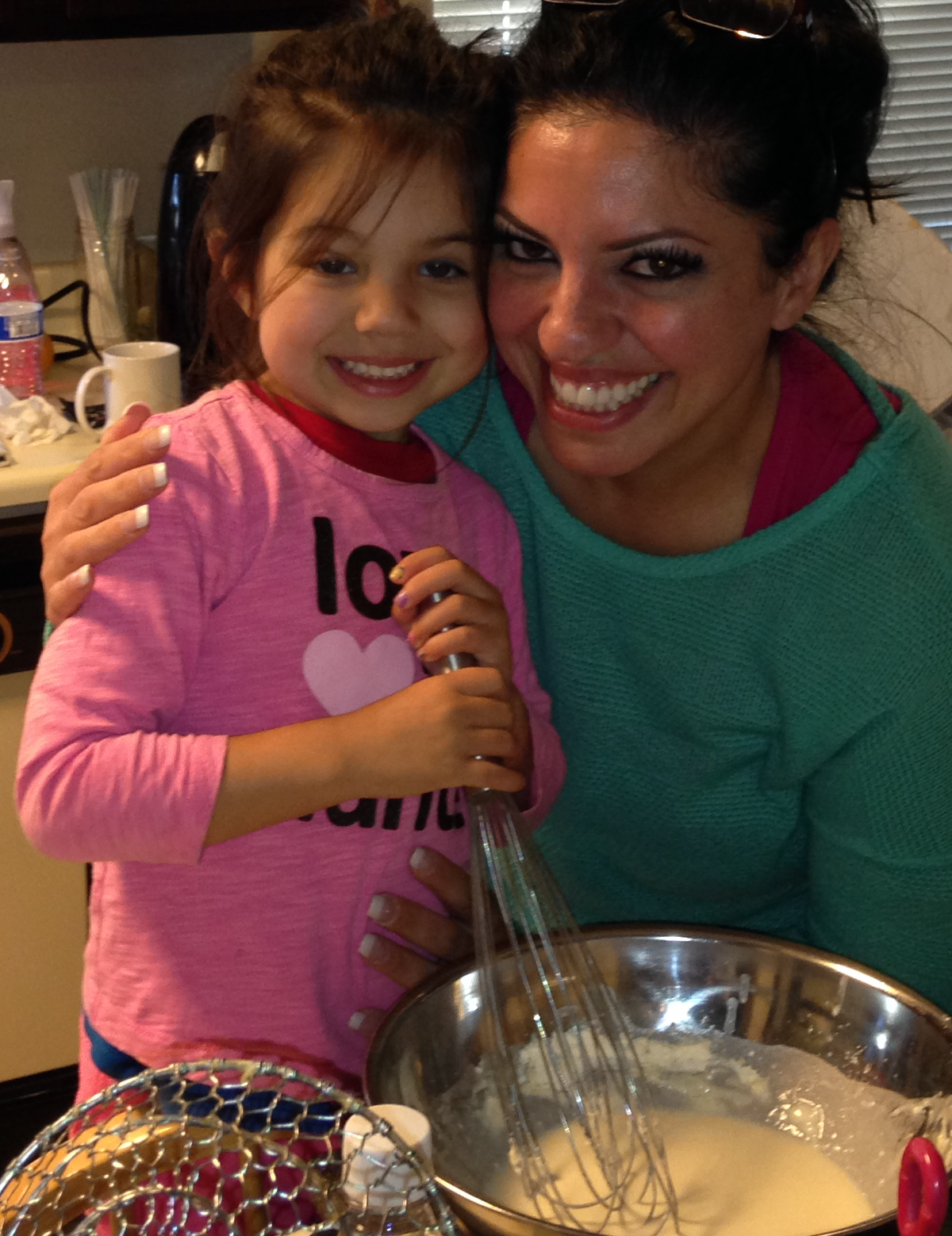 Here is a recipe you will LOVE!
Ingredients
1 cup white sugar (sometimes I will intentionally put a little less to reduce sugar intake)
1 egg (room temperature)
2 cups all-purpose flour
1/2 teaspoon salt
1/2 cup vegetable oil
3 ripe bananas, mashed
1/4 cup chopped walnuts
1 teaspoon baking soda
Flaxseed meal (optional) – I like putting 2-4 tablespoons of Flaxseed to add an extra goodness and make it even healthier. It will change the consistency of the batter.  My recommendation is to individually add in to some of the muffin tins and see if you like it before you mix it in the entire batter. 
TIP:  You can custom add walnuts, raisins, cranberries etc. in individual muffin tins like you see below vs. the entire batter.
This way everyone in the household can enjoy to their liking.  😉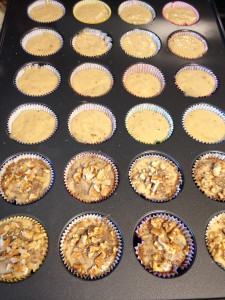 Directions
Preheat oven to 350 degrees F (175 degrees C). Place muffin cups in muffin tin, or grease with a little butter.
Mix sugar, oil, and egg until creamy and light yellow.
Add bananas and walnuts. (recipe works great if you decide to leave the walnuts out as well – my kids are not big fans of walnuts)
Add flour, baking soda, and salt. Stir until completely smooth.
Spoon the batter into the muffin tin. (I like using ice cream scooper – keeps the sizes consistent)
Bake for 30 to 40 minutes, until toothpick poked in center muffin comes out clean.
HOT TIP:  They are great for on the go breakfast and as a snack in kid's lunch box!
My kids who are 6 and 4 LOVE them!
Enjoy!
Now I'd love to hear from you.  What's your favorite recipe you like to use when baking with your with your kids that is simple and kid friendly?  Paint a picture for us below in the comments.
Remember, thousands of Mom's come here each week looking for that golden nugget of inspiration and encouragement to make their Motherhood journey a bit smoother.  Your insight could be exactly what they need to hear right now that will make a difference.
Important: please share your thoughts and ideas directly in the comments below.
Thank you in advance for reading, commenting and sharing.  You help my mission to create "Sisterhood for Mommies" come to life!
Share the knowledge…Share the love…
XOXO,